The professional standard for CPR training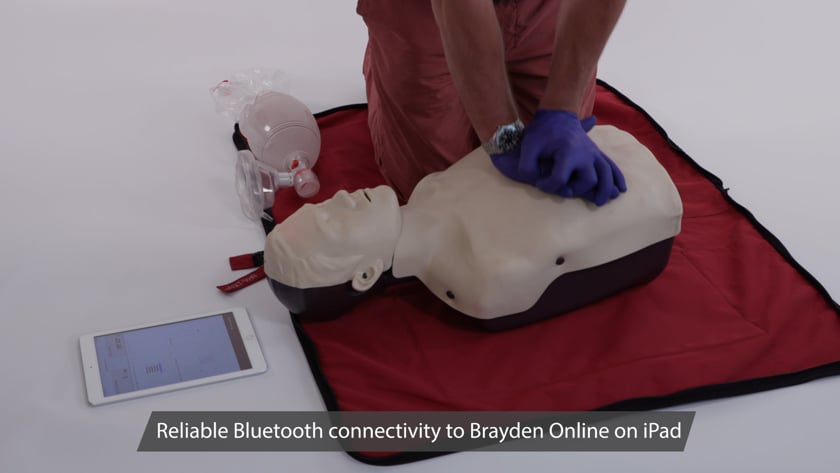 Brayden Adult Pro is an award-winning CPR manikin, which with Brayden Online provides a training system designed to meet the needs of CPR instructors and trainees in a variety of educational settings.
Brayden Online offers flexible training to suit individual trainee needs to practice compressions only, ventilations only, a complete CPR scenario and complete an assessment in full compliance with AHA and ERC Guidelines. A reliable Bluetooth connection to an iPad and a simple FREE download from the App Store is all you need to open up extensive possibilities in the running of your CPR training programs.
Intuitive feedback for improved CPR performance
Real-time feedback on key CPR parameters via the adult CPR manikin's connection to Brayden Online makes for a truly immersive and retentive learning experience.
Performance feedback can be reviewed and analysed to help improve the quality of CPR both at an individual and organisational level.
Brayden Pro is available to use with Brayden Online via iOS (iPad) and Chrome.
Working with Brayden on the scoring aspect of this system, we know the metrics have been inputted by UK and Global professionals. It's the professional standard of expected performance.
What do I need to improve?
The Brayden Adult Pro provides multiple debriefing opportunities, which will help to improve the development and retention of quality CPR performance.
Brayden CPR manikins have been tested to endure over…
How do you want to run your training programs?
Brayden Online offers extensive functionality with features designed to meet the unique and varied needs of your training programs and organisation's operational requirements.
From individual skills practice and instructor monitoring to self-directed learning, remote classroom training, assessment and certification, contact us for a full demonstration.
Self-learning, self-assessment, certification, integration with your Learning Management System (LMS), data management.
Run your CPR classes remotely through a live video stream while still accessing full metrics of trainee CPR performance.
A portable, stand-alone training system that's easy to set up for the independent trainer running small classes.
Full body manikin made of non-toxic materials (RoHS, 100% silicone skin)
32cm x 59cm x 21cm (W x H x D)
Dimensions packed: 37cm x 62cm x 26cm
3.2Kg (including batteries)
Packed Weight: 5.4Kg
Operating temperature
0°C – 40°C (32°F – 104°F)
Storage temperature
-20°C – 60°C (-4°F – 140°F)
5% to 95% relative humidity (avoid getting wet)
6 C-Type 1.5v batteries. 
AC Adapter (optional)
Brayden Adult/Junior manikin firmware can be updated via the App. (Device firmware update)
2 years (excluding consumables)
View our other products...