The professional standard for Paediatric CPR training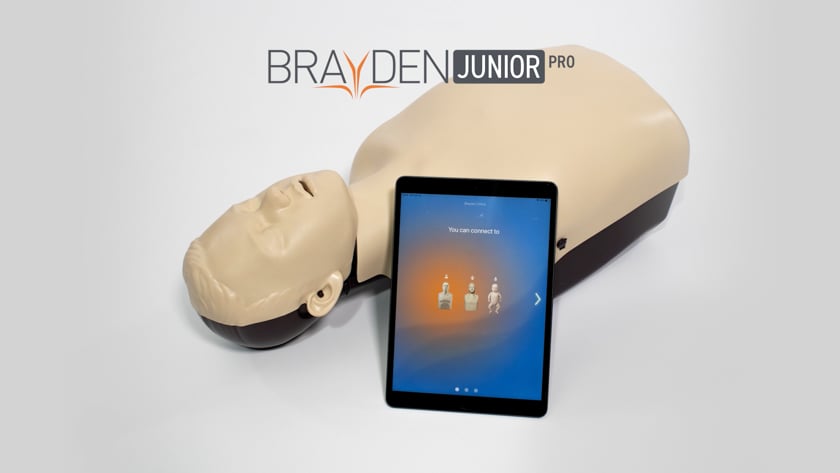 Resuscitation on paediatric patients is a rare clinical event, so realistic practice in preparation for such CPR scenarios is essential to optimise the chances for successful outcomes.
A simple conversion kit, Brayden Junior Pro allows you to easily convert your Brayden Adult Pro manikin into a Guidelines compliant paediatric CPR training manikin for both training and assessment. When connected to Brayden Online, performance feedback and analysis software tools make for a comprehensive, quality debrief.
Do you want to arrange a demo?
Intuitive feedback for improved paediatric CPR performance
Real-time feedback on key paediatric CPR parameters via the Brayden Junior Pro manikin's connection to Brayden Online makes for a truly immersive and retentive learning experience.
Accurate performance feedback can be reviewed and analysed to help improve the quality of CPR both at an individual and organisational level.
The Brayden Junior Pro manikin is available to use with Brayden Online via iOS (iPad) and Chrome
The Brayden Junior Pro manikin provides real-time feedback that's easy to implement and will improve the quality of CPR… immediately!
Compression depth * Rate / Per Time
Helps the trainee to perform compressions at the correct depth, rate (speed) and with the correct recoil between compressions.
Compression depth * Rate / In Overal
Allows all chest compression per cycle to be viewed to help encourage consistent and correct compressions.
Provides real-time feedback of hand position and provides an indication (red light) when hand position is incorrect.
Allows real-time feedback of ventilation performance with regard to correct volume of air delivered.
Brayden Pro resuscitation training manikins give not only an immediate guide to the quality of compressions and ventilations, but also offer trends and a permanent record of what is being achieved. It would be hard to rival as a training system.
What do I need to improve?
Multiple debriefing opportunities help to improve the development and retention of quality CPR performance.
Easy to switch between adult and paediatric CPR training
How do you want to run your training programs?​
Brayden Online offers extensive functionality with features designed to meet the unique and varied needs of your training programs and organisation's operational requirements.
From individual skills practice and instructor monitoring to self-directed learning, remote classroom training, assessment and certification, contact us for a full demonstration.
Self-learning, self-assessment, certification, integration with your Learning Management System (LMS), data management.
Run your CPR classes remotely through a live video stream while still accessing full metrics of trainee CPR performance.
A portable, stand-alone training system that's easy to set up for the independent trainer running small classes.
Full body manikin made of non-toxic materials (RoHS, 100% silicone skin)
32cm x 59cm x 21cm (W x H x D)
Dimensions packed: 37cm x 62cm x 26cm
3.2Kg (including batteries)
Packed Weight: 5.4Kg
Operating temperature
0°C – 40°C (32°F – 104°F)
Storage temperature
-20°C – 60°C (-4°F – 140°F)
5% to 95% relative humidity (avoid getting wet)
6 C-Type 1.5v batteries. 
AC Adapter (optional)
Brayden Adult/Junior manikin firmware can be updated via the App. (Device firmware update)
2 years (excluding consumables)
View our other products...